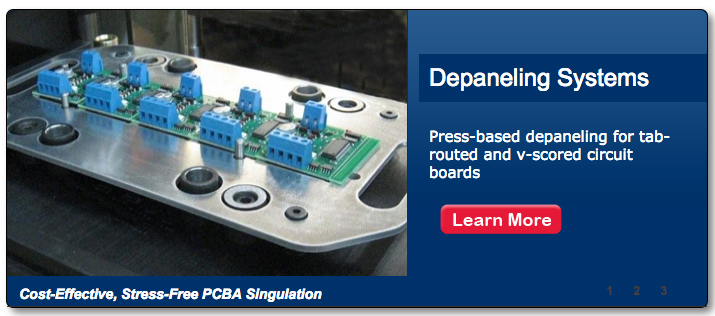 PCB Depaneling for Tab-Routed and V-Scored Circuit Boards
Pioneer Dietecs offers a complete line of depaneling systems for close tolerance singulating of v-scored and tab-routed printed circuit boards. The Pioneer system is a press-based, stress-free system that includes both dies and presses. Pioneer Dietecs tooling offers the same accuracy as hard tooling for a fraction of the cost.
Typical PCB Depaneling Designs
Download pdf of 6 design tips for PCB depaneling.
Stress-Free, Press-Based Singulating:
Cleaner and more accurate than routing
As accurate as punching with no stress
More accurate, less stressful and quicker than pizza cutters
Singulates both tab-routed and v-scored arrays
Die changes can be made in 30 seconds