PCBA Depaneling Systems
PCBA Depaneling Systems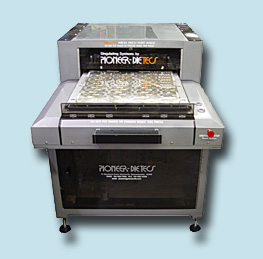 Pioneer-Dietecs Corporation offers a complete line of stress-free, press-based depaneling systems for close tolerance singulating of both tab-routed and v-scored printed circuit boards. Pioneer presses range from simple, manually-operated benchtop models, to automatic shuttle table models. Depaneling systems can be built with our simple proprietary press and/or Allen-Bradley SLC 5/04 Programmable Logic Microprocessors.
All-pneumatic, air-logic configuration for easy maintenance
Pioneer-Dietecs depaneling presses are all-pneumatic with Pioneer's proven air-logic systems for semi-automatic cycle of the die ram. They are inexpensive to hook-up and no electricity is required. Pnematic presses are clean room safe...no messy hydraulic oil.
CE certification
Cleanroom safe
Die changes in 30 seconds or less
Micrometer stroke adjust for die-height setting available as an option
Replaceable nylon or plastic cutting pad included
Starting at $4,995
Press Logic
The Pioneer pneumatic press system configuration:
Available with 2 to 6 Tons of force
All pneumatic with air-logic for semi-automatic cycle of the die ram
Inexpensive to hook-up with no electricity required
Micrometer die height adjustment available as an option
Replaceable nylon cutting pad

Pneumatic systems are very popular in third-world installations where technical staff may not be readily available for programming and maintaining more complicated PLC controlled systems. Palm buttons trigger the operation, shuttling the lower die plate on THK linear guide rails into the press. Also available in PLC controlled systems.
Press-Based Depaneling for Tab-Routed and V-Scored PCB's
Change Dies in 30 Seconds
Our unique floating die plates eliminate time consuming die installation and expensive setup costs typically required for close tolerance registration. Dies can safely singulate within ½ mm of ceramic components and fine trace lines with no stress or strain to adversely affect fragile PCB's for semiconductors or other delicate applications. Works equally well on skip-tab-routed or v-scored arrays.
First, an operator registers the panel on tooling-hole pin locators on the lower die plate. Closing a cover triggers the operation, shuttling the lower die plate on linear guide rails into the press. After depaneling takes place, the shuttle table automatically returns to the home position and the cover opens, allowing the operator to remove the singulated PCB's. The entire cycle, loading to unloading, takes as little as four to six seconds.
Easy as 1-2-3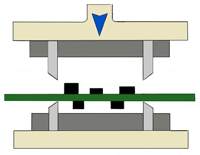 1. Place the printed circuit board panel on tooling locating pins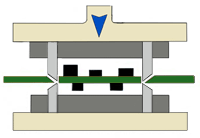 2. Now the press depanels the array and presents the singulated PCBs to the operator in 5 to 10 seconds with minimum stress, maximum stability, and the accuracy of class A hard tooling.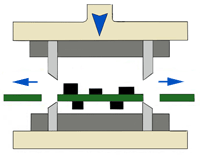 3. After singulation, open the shuttle table and easily remove the PCB
Let Pioneer design a turnkey system for your depaneling process.
Send us a CAD file, pdf or sample array and we'll quote a turnkey system including both dies and presses you need to completely singulate your printed circuit boards.