PCBA Depaneling System Options
Depaneling System Options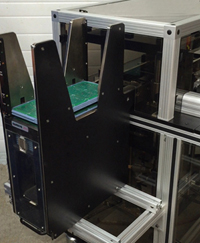 Robotic Depaneling Cell
The S2000 press lends itself easily to in-line integration. The top of the press can be easily removed to have robotic access to the lower shuttle table for pick & place of arrays and singulated PCBs.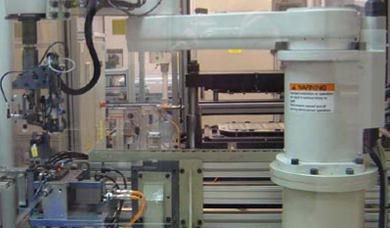 Singulated PCBs being removed by the robot with the S2000 press (in the rear of the cell behind the robot)
Replacement and New Wand Punching Dies

Upgrade Your Wand System with Better Dies for Less
Pioneer Dietecs offers male/female punching dies that work perfectly with Wand systems. Pioneer punching dies can improve performance of your existing equipment by minimizing stress. And they cost less. What's more, Pioneer provides better service than larger companies. Better service, better dies, and lower prices. Why not give Pioneer a try?
Jedec Trays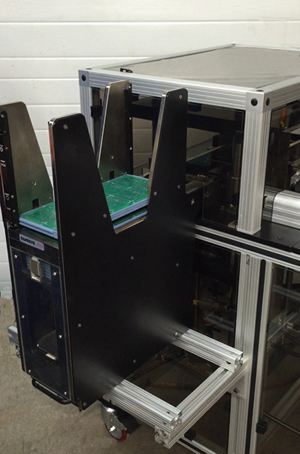 For depaneling PCB's with Jedec trays:
7 seconds per panel
Standard JEDEC trays (& nonstandard; up to 32mm thick)
Up to 32 tray capacity
Low force auto depaneling
Quick change die sets
Clean Room compatible
Starting at $75,000
Bosch Conveyer Belt
For depaneling PCBs in a Bosch conveyor pallet system:
3 seconds per PCB depaneling pallet cycle time
PCB panels up to 250mm x 340mm in size
Up to 16 pallet capacity
Low force auto depaneling
Quick change modular die sets
Clean Room compatible
Starting at $85k
Let Pioneer design a turnkey system for your depaneling process.
Send us a CAD file, pdf or sample array and we'll quote a turnkey system including both dies and presses you need to completely singulate your printed circuit boards.